How to read auction sheet provided by Japanese used car auction sites
Auction sheet is a document provided by auction sites to show the condition of the car after being inspected by the auctioneer. The Auctioneer checks scratches, age of the vehicle, mileage, repair history and more than 2000 checks for each car.
These sheets contain information such as car grades/rating, inspection date, car specifications, car dimensions and other car condition found after inspection.
Most of these sheets are in Japanese language. In this article we will describe the abbreviated terms used to provide condition information in these sheets.
My advice is before you buy a car from Japanese used car auction, ask your agent/dealer to give you the translation of the auction sheets of the cars you are interest in, an honest car dealer will do that.
Auction Grades
Note: The auction car grading may be a little different depend on auction sites.
6.0 Or S: Nearly a new car usually under 5000km
5.0: Nearly a new car
4.5: Excellent condition
3.5: Very good
3.0: Good
2.0: Very poor condition
1.0: A modified vehicle
A or R: Accident history
Below are Inspection Marks.
These marks are listed with numbers, example:

A1, A2, A3. Meaning
A1=small scratch. A2=medium Scratch, A3=Large Scratch

1= Small/Minor/Light
2= Medium
3= Large/Major/Severe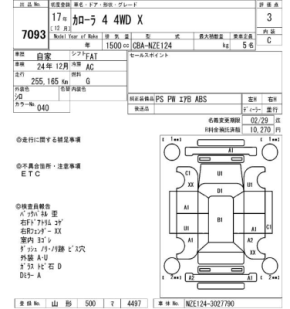 U: Dent
A: Scratch
B: Scratch & Dent
W: Repaired
C: Corrosion
S: Rust
XX: Changed
X: Need to change
G: Stone chips
P: Need painting
PS: Power Steeling
PW: Power Window
CD: Compact Disk
ABS: Anti lock-Brake System
SR: Sunroof
AW: Alloy Wheel
AT:Automatic Transmission
ST: Stereo
R.H.S: Right Hand Side
L.H.S: Left Hand Side
TV: Television
MD: Minidisk
CAT: Column Automatic Transmission
FAT/AT: Automatic Transmission
F5: 5 Speed Manual
AAC: Automatic Air Conditioner
SRS: Air Bags
MT: Manual Transmission





Click here for translated auction sheets






Go To:
auction sites.
auction membership guide.
online car auction.






Auction Sheet - Back To Top