Used Car Buying Tips is Additional Information for the Used Car Buying Guide
This page discusses some used car buying tips, helping ensure you have sufficient information about the vehicle you are planning to buy. A few of these used car buying tips will not be new to you, however they are all important things to keep in mind before buying a used car.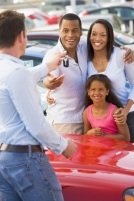 1. Know What You Want to Buy
Do you want to buy new or used car?
What type of vehicle are you planning to buy? Do you need a sedan, truck, van, etc?
What type of transmission do you prefer: manual or automatic, or does it matter?
What color vehicle do you want?
What size engine do you desire, as well as the type of fuel it requires?
What model year do you want to purchase?
What car manufactures do you prefer?
2. Know Your Budget
Perhaps the most important part of the used car buying process is figuring out how much you can afford to spend.
You need to choose a vehicle that fits well with your lifestyle
. Your choice also depends on the size of your family, if you have one, since the vehicle must have enough seats to accommodate everyone. Single people who drive others around as part of a carpool or for their job should also consider a vehicle with four doors and plenty of seating.
3. Be Aware of Insurance and Repair Costs
You must take into consideration the costs associated with owning any car. These ownership costs include insurance, repairs, fuel, parking fees, parts and any other costs associated with owning a vehicle. Doing your homework on the cost of owning a particular vehicle helps you avoid buyer's remorse.
4. Compare Prices
Price comparison is not always easy, and it can require considerable time, but it is worth the effort. How do you compare vehicle prices? You first must ask yourself where you are going to purchase the vehicle, since that plays a huge part in the process. These used car buying tips are crafted for people who are planning to buy their cars in Japan.

Should you buy your next car in Japan or in your own country? My advice on car price comparison is that you should compare the price of cars in your country with the ones sold in Japan to take advantage of the best pricing.
A list of helpful internet sites about used car buying tips will be coming soon.
5. Know Where to Buy the Car
Auto auction websites
Independent sellers
Local auto auctions
Used car dealerships
6. Contact the Car Dealer, Independent Sellers or Auction Sites' Agents.
Finding a trustworthy and experienced used car sales agent is a huge bonus. It is best to contact the agent early in the process to ask about the dealership's car service information, including how the dealership's service department operates.
7. Car Price Negotiation
You need to convince the used car agent to find you a car within your budget. This part of the used car purchase negotiation is crucial. You are going to buy a car very often, so take your time to make sure you get the best price possible.
8. Create Your Own Car Checklist
What features and options should you put on your new car checklist? Visit the auction sheet on the used car auction site, which has detailed information on different cars' conditions and features, and then use that information to create your own checklist.
9. Shaken
Shaken is the most significant factor to consider before buying a car from auction sites. Shaken is an automotive inspection system in Japan, which ensures that every vehicle on the road is properly maintained.
How does Shaken affect you as a buyer? Since Shaken changes the value of the car, the car with a remaining Shaken of a few months or even a year costs more than one without Shaken. I advise you to choose the cars without Shaken since you are not going to drive them in Japan, reducing the cost of the vehicle you wish to buy.
10. Vehicle Inspection
Does your country import regulation authority have a vehicle inspection system? You need to ask about this so you are not surprised when you try to import the car.
If needed, here are some of the companies that do vehicle inspections in Japan: JAAI, JEVIC, ATJ, etc
11. Terms of Shipment
What kind of shipping terms are you going to use to bring the car you purchase overseas? CIF, C&F or FOB... the choice is yours.
I hope these used car buying tips have been helpful to you!
Go To:
car buying guide.
car price.
Used Car Buying Tips - Back To Top